NEWS UCEI President Meets President of Italian Chamber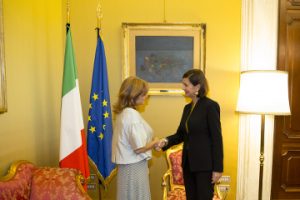 By Adam Smulevich
 
The president of the Union of Italian Jewish Communities (UCEI) Noemi Di Segni met with the president of the Italian Chamber of Deputies Laura Boldrini last week.
The meeting was friendly and constructive. It focused on the need to respond to new forms of intolerance, including anti-Semitism, which often mark the public debate, particularly in social media. Attention was also devoted to new forms of hatred against Israel and in particular on the boycott of its culture, universities and companies. 
 
"Your community is part of Italy and should be involved in the issues that are central to the debate within Italian society," Boldrini said at the beginning of the meeting.
 
After recalling the recent approval of the law against Holocaust denial by the Parliament, Boldrini emphasized the importance of the Commission against racism, xenophobia and hatred established by the Chamber of Deputies last May. 
 
"We have to go back thinking about how we can defend the values ​​that underlie our Constitution: especially the dignity and respect of human beings. We need to ensure that the guarantees of democracy are not exploited by its' opponents to strike at our values," stressed President Di Segni.
 
During the meeting Boldrini and Di Segni also spoke about the initiatives for the next year's, Day of Remembrance of the Holocaust.