CULTURE Design Chanunukkiot on Exhibit in Milan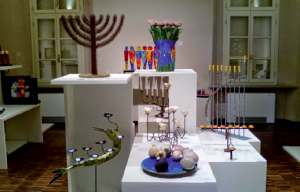 By Daniel Reichel
 
The exhibition "The Lights of Chanukkah. History, Art and Design" will open on December 13 at the Triennale Design Museum in Milan. The leitmotiv of the artifacts is to give a modern interpretation of the meaning of an ancient holiday.
Forty chanukkiot designed by Italian and international artists and designers that are part of the collection of the Jewish Community of Casale Monferrato will be presented to the public in the prestigious venue of the Triennale. Through the Chanukkioth, the visitors will have the opportunity to learn the message of this Jewish holiday and to encounter an innovative project that merges art and Jewish tradition.
 
On the same morning, there will be a special advance opening for journalists who will be welcomed by the press office of the Union of Italian Jewish Communities. The Union has worked hand in hand with the press office of the Triennale Design Museum. It will be an important possibility to focus on the message of Channukkah and the Jewish values it represents so as to make them known to the general public.
 
The collection was started from an idea by designer Elio Carmi and artist Antonio Recalcati. They wanted to show spirituality through the reinterpretation of objects connected to religious tradition which have been used for centuries by Jewish families.
 
The different meanings of the holiday were captured in the various artworks by the many artists featured in the collection on display. Each one of them has interpreted the theme according to their specific sensitivity to the story of Channukkah and the miracle of the oil which burned for 8 days. 
 
From year to year artists, Jews as well as Catholics, Evangelicals, Protestants and Muslims, have undergone the fascinating challenge of translating concepts such as identity, freedom, and asserting oneself in art. The Chanukkiot resulting from their endeavors are on permanent display at the Jewish Museum of Casale Monferrato.