EVENTS Healthcare Inequalities at the Economics Festival of Trento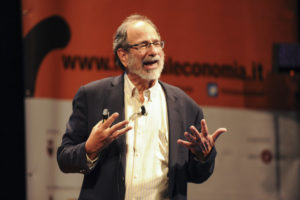 By Daniel Reichel
 
The Economics Festival of Trento took place last week focusing on health inequalities. For the occasion, the Italian Jewish newspaper published a special issue on the topic this month. 
 
Can a global network of kidney exchange be the answer to saving human lives and reducing inequalities in the healthcare system? Over the course of the Economics Festival of Trento, Alvin E. Roth, 2012 Nobel Memorial Prize recipient in Economics, gave an in-depth look into the logistics behind such a system as well as the ethical considerations and regulatory restrictions that surround this type of exchange that is widespread on the black market.
 
Roth, who explained how kidney exchange and matching market works in an interview with Pagine Ebraiche, underlined that in much of the world, kidney disease is a death sentence. This is not the case in countries where patients typically go on dialysis to keep them alive until a transplant is available.
 
Unfortunately, wealthy countries with adequate medical facilities, where dialysis is available do not have enough organs for transplants, creating long and expensive waits for recipients: in the United States, 100,000 people require a kidney transplant annually while there are only 12,000 donors. Developing countries, specifically the Philippines and Mexico, offer a solution to this dilemma that is mutually beneficial as both countries have a low national demand for kidneys but poor outpatient care.
 
Between developed and developing countries, Roth believes that a global kidney exchange could alleviate inequalities in healthcare systems around the world. He explains his proposal by examining kidney failure from a market perspective.