European Day of Jewish Culture – Learning to See the 'Other' in Rome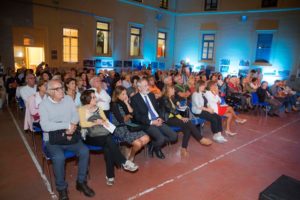 Pagine Ebraiche staff*
As it has become tradition, the inauguration of the European Day of Jewish Culture in Rome goes together with the beginning of the events of the International Festival of Jewish Literature and Culture (this year in its tenth edition). Therefore, there were two locations for attending the events for the traditional Night of the Kabbalah organized on the evening of September 9th: Palazzo della Cultura and the gardens of the Great Synagogue of Rome. A night of events, food, music and much more: this is "The Jewish White Night", as some of the protagonists described it.
In the morning, among the initiatives for the Roman Day there was a particularly high interest in the inauguration of the photography exhibition "Vedere l'Altro, vedere la Shoah" ("Seeing the 'other', seeing the Shoah"), curated by Paolo Coen and held in the venue of the Foundation of the Museum of the Shoah in the Casina dei Vallati. It was inaugurated with speeches by Mario Venezia, president of the Foundation; Ruth Dureghello, president of the Jewish Community of Rome; and Donata Levi of the University of Udine.
"Vedere l'Altro, vedere la Shoah" is an exhibition of contemporary photography. The exhibition originates from a University project that was created in 2009 for January 27th, the Holocaust Memorial Day. The project, which was scientifically substantiated by various critical interventions and an entire book, edited by Rubbettino in 2012, has taken various forms over time, including a photography contest and price and more than twenty exhibitions in Italy and abroad.
Members of the scientific committee of the exhibition are Rita Borioni (RAI), Giorgia Calò (Jewish Community of Rome), Lorenzo Canova (University of Molise), Alessandra Carelli (University of Calabria), Gabriele D'Autilia (University of Teramo), Guerino D'Ignazio (University of Calabria), Donata Levi (University of Udine) and Raffaella Morselli (University of Teramo).

*Translation by Clara Ehret, student at the University of Regensburg, intern at the newspaper office of the Union of the Italian Jewish Communities.