NEWS The Next Giro D'Italia to Start From Jerusalem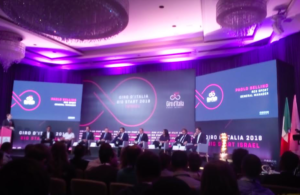 By Adam Smulevich
The next edition of Giro d'Italia, one of the prestigious three-week-long bicycle Grand Tours held every year along with the Tour de France and Vuelta, will start from Jerusalem. The official announcement, as Pagine Ebraiche anticipated few weeks ago, was announced today during a press conference in Jerusalem.
At the heart of this project, there is the figure of Gino Bartali (1914-2000), a great Florentine cyclist who had been awarded the title of "Righteous Among the Nations" by Yad Vashem for his efforts to aid Jews during World War II. The key witness was Giorgio Goldenberg, a Jew from Fiume that was hidden together with his family in an apartment owned by Gino. "Gino Bartali saved my life and the life of my family," he revealed in December 2010 to Pagine Ebraiche. His words quickly spread around the world.
It is not uncommon for great cycling tours to start in a foreign country, but this is the first time that it happens in the Middle East. Jerusalem was suggested to the organizers with the hope of creating a real "peace ride".
Significant cycling investments have been made in Israel in these last years. Recently for example a professional team, the Israel Cycling Academy, was founded, and it has already established itself in the public eye for a number of reasons. Among them, it is the very strong relationship with Bartali's story of humanity, especially thanks to the sensitivity of his team manager, Ran Margaliot, who led his athletes (both in 2016 and 2017) to Florence, cycling to Gino's places to honor his memory. This project was started and developed together with Pagine Ebraiche.