NEWS A New Campus to Study Death Camps Music to Be Built in Puglia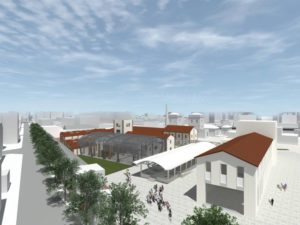 By Pagine Ebraiche staff
A new building complex devoted to study and preserve music composed in the concentration and death camps will be built in Puglia, in the city of Barletta.
"Today I'm happy to feel that the dream to build the 'Cittadella della Musica Concentrazionaria' is not just mine any more, but ours, of the whole city and of a generation of men and women who are undertaking a demanding task. It is redesigning the history of music in the coming years by making available this new 'Library of Alexandria' that is represented by the music created in the camps," said Francesco Lotoro, musician and the most prominent expert on the topic. Lotoro, who is the president of the Fondazione Istituto di Letteratura Concentrazionaria (Foundation for the Institute of the Concentration Literature) announced the project last week.
The complex will cover 9,000 square meters and include five sections (a Campus of the Musical Sciences, a Music and Media Library, a Museum of the Regenerated Art, a theater and an international book store). The Italian government has already announced it will allocate five million euros to fund the project.