CULTURE Music, a language of freedom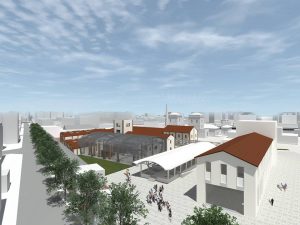 By Pagine Ebraiche staff
"Unfortunately, we failed to save the lives of those men and women, but we managed to preserve their music. And this has the same value of saving their life in its metaphorical and metaphysical meaning."
These words express the thirty-year endeavors of Francesco Lotoro, pianist, composer and conductor, to collect, preserve and promote music produced in concentration and extermination camps. More than 8,000 scores have been recovered, together with 10,000 documents about music production in camps. It is a unique heritage, which will be soon on display at the Citadel of Concentrationary music in Barletta, his hometown, as a further tribute to his intense work on the rediscovery of twenty years of European and universal history: from 1933, the year when Hitler came to power, to 1953, the year of Stalin's death.
It is "a dream come history", so has been called, which has been presented to the Senate through the very words of Lotoro himself, Senator Ruggiero Quarto, who personally took care of the organisation of this institutional event, Nicolangelo Dibitonto, architect designer of the Citadel, and Barletta city council president Sabino Dicataldo, all moderated by the journalist Francesco Zagaria. UCEI president Noemi Di Segni was also present.
Concentrationary music, Lotoro explained, is "like one of the most important legacies that universal history has received from the phenomenon of deportation", but also "a concrete sign of the fact that when freedom is lacking but still we have paper and musical instruments, these become freedom themselves".
The citadel will occupy 9,000 m2, including what used to be the local distillery, which will be reinvented and used for cultural purposes, with several spaces for narration and interaction with the public.
Among others, there will be a designated campus for musical sciences, an international book collection from the 20th century, a theatre and a hotel for students. Jewish music in all of its aspects and traditions will receive special attention. This engagement, as Lotoro announced, will be dedicated to the memory of Emanuele Pacifici. "We are entrusting posterity with an intellectual testament. We'll reopen the gates of a new Library of Alexandria. We'll take back the monuments of the concentrationary universe – this was his reflection – as well as the exceptional visions it developed.
*Translated by Mattia Stefani and revised by Claudia Azzalini, students at the Advanced School of Modern Languages for Interpreting and Translation of Trieste University and interns at the newspaper office of the Union of the Italian Jewish Communities.