CULTURE The Museum of Italian Judaism and the Shoah Ready to Debut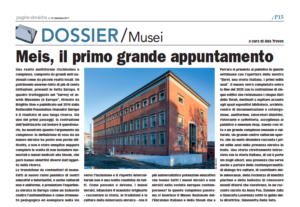 By Ada Treves
A complex and multi-shaped reality, comprising national authorities as well as smaller local organizations. A rich heritage including over a hundred institutions from all over Europe. This is the reality that Brigitte Sion depicted in her "Survey of Jewish Museums in Europe". The survey, published by the Rothschild Foundation (Hanadiv) Europe in 2016, was the result of a long research. Since the very beginning, during the collection of the addresses to which the survey would be sent, the topic proved to be a complex one: it was not easy to define what a Jewish museum was. It was also a difficult choice to exclude Holocaust memorials and museums, whose main goals differed from the purpose of the research.
The transition from relic repositories to public educational, informative and cultural centres is not homogeneous. Moreover, not everybody agrees on using the Jewish experience in Europe as a bastion against antisemitism, and as an educational model toward intercultural inclusion and respect. How could – or should – Jewish museums fulfill their initial role of telling the history, traditions and culture of the Jewish minority, while also contributing to the general education of the public, as expected of all museums in contemporary Europe?
In this complex picture, the National Museum of Italian Judaism and the Holocaust (MEIS) is currently hosting its latest exhibition, called "Ebrei, una storia italiana. I primi mille anni" ("History of Italian Jews – The first thousand years").
The museum is to be completed by the end of 2020 with five buildings – a reference to the five books of the Torah. Beside the exhibition areas, the building will host a library, an archive, an indexing and documentation centre, a concert hall, educational laboratories, a restaurant and a coffee shop, visitor centres and a museum shop. Starting from mid-December, this big museum and open cultural complex will tell the story of the first thousand years of the Italian Jewish community. Its story is closely tied to the Italian history since its very beginning, but it is also essential to discuss contemporary history.
The dialogue between cultures, the contribution of minorities, the richness of multiple identities, and the beauty of different worlds living side by side are described, in the museum, by curators Anna Foa, Daniele Jalla and Giancarlo Lacerenza, led by director Simonetta Della Seta.
Translated by Federica Alabiso, student at the Advanced School for Interpreters and Translators of Trieste University, intern at the newspaper office of the Union of the Italian Jewish Communities.