CULTURE New Exhibit on Renaissance to Debut at the Museum of Italian Judaism and the Shoah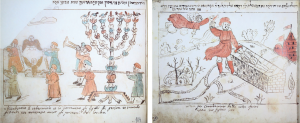 By Rossella Tercatin
The exhibit "The Renaissance Speaks Hebrew" will be inaugurated at the Museum of Italian Judaism and the Shoah (MEIS) in Ferrara on April 12, 2019. It will be opened until September 15, 2019.
After delving in the first centuries of the Jewish presence on the Italian peninsula, in "Jews, an Italian story. The first thousand years", the new exhibition will cover a crucial page of the cultural history of Italy, in the perspective of the Jewish contribution to it and the interaction with the Christian majority. The goal is to show the nuances of a complex and fruitful period, marked by the interweaving of harmony and prejudices.
In addition to artifacts and ritual objects, the exhibit will feature paintings such as the Sacra famiglia e famiglia del Battista (The Holy Family and the Family of Saint John the Baptist, 1504-1506) by Andrea Mantegna, the Nascita della Vergine (Birth of the Vergin, 1502-1507) by Vittore Carpaccio, the Disputa di Gesù con i dottori del Tempio (Christ disputing with the Doctors, 1519-1525) by Ludovico Mazzolino, Elia and Eliseo by Sassetta.
The exhibit is curated by Giulio Busi and Silvana Greco, under the aegis of the Ministry for Cultural Heritage, the Emilia-Romagna Region, the City of Ferrara, the Union of Italian Jewish Communities, and the Jewish Community of Ferrara. The scenography is by Studio GTRF Giovanni Tortelli Roberto Frassoni.