SPORTS Former Inter Captain Zanetti Visits Milan's Shoah Memorial with 400 Young Athletes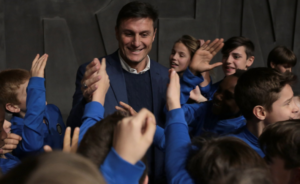 By Pagine Ebraiche Staff
Javier Zanetti, former captain and current vice-president of the Inter-Milan soccer team, visited the Shoah Memorial of Milan with 400 players of the Inter soccer school and of the Olimpia Milan basketball school.
The visit was part of the initiative to raise awareness against racism "#TweetOffRacism – Siamo Fratelli Del Mondo" ("We are brothers of the world").
"This is a place designed for young people like you to get to know history, to understand which ideas are right and which are wrong and that we have to fight against dictatorships and for a free society", said Roberto Jarach, vice-president of the Foundation for the Memorial.
"Today we experience extraordinary emotions, in a 'special' place, which spoke to us, with the people who went through this ordeal, to tell us that any form of racism is against humanity. Inter was created with this principle in its blood. We are brothers of the world. This is the message of Inter's founders from 110 years ago, and this is the message that we want to promote today", added Zanetti.