NEWS Biella, a special Bar Mitzvah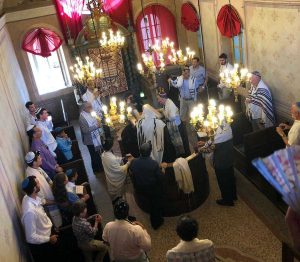 By Pagine Ebraiche staff
Everyone experienced a unique emotion in Biella Synagogue, where the local Jewish Community celebrated a very special Bar Mitzvah. An American boy had the chance to celebrate the Jewish coming of age ritual, that is reached at the age of 13, reading Biella's valuable Sefer Torah. This sefer dates back to 1250 and it is the most ancient sefer composed in Europe that belongs to a Jewish Community and is still consultable.
The Torah scroll was restored, on behalf of the Foundation for Jewish Cultural Heritage in Italy, by sofer Amedeo Spagnoletto with the support of the President of the Jewish Community of Vercelli and Biella Rossella Bottini Treves.
The Sefer was probably brought to Piedmont during the 15th century by the Ashkenazi Jews who were expelled from the Kingdom of France in 1394. Six centuries later, the small Jewish Community of Biella still regards it as part of community life. Besides, the Torah scroll is one of the most refined pieces of the exhibition "Il Rinascimento parla ebraico" (The Renaissance speaks Hebrew) which is currently in progress at the National Museum of Italian Judaism and the Shoah in Ferrara. And it is there that it will finally return after donating a moment of great joy to the whole community.

*Translated by Claudia Azzalini and revised by Mattia Stefani, students at the Advanced School for Interpreters and Translators of Trieste University and interns at the newspaper office of the Union of the Italian Jewish Communities.