EVENTS Religious communities gather in solidarity with homeless in Milan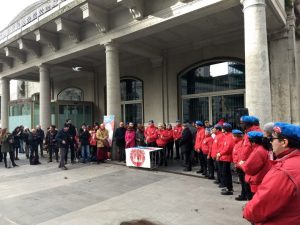 By Pagine Ebraiche staff
An event for reflection between different religious communities in Milan in solidarity with the city's homeless took place last week before the Shoah Memorial. The City Angels of Milan, an organization known in the city for its commitment to those in need which has been collaborating with the local Jewish community for years organized the occasion.
Franco Buzzi, prefect of the Ambrosian Library, Imam Khaled Elhediny, Gadi Schoenheit, member of the Board of the Jewish Community, the Christian Orthodox priest Father Emmanuel Carbonaru, the evangelical pastor Marcel Moro and the Tibetan Buddhist monk Cesare Milani attended the meeting between representatives of different religions, institutions and citizens.
"We must be united in our differences to help others," the message from Mario Furlan, founder of the City Angels.
Schoenheit spoke of the meaning of Hanukkah as a festival of hope, recalling how the latter is the engine to look to the future with confidence. He then spoke about anti-Semitism and on how it is still a threat today.
The topic was also mentioned by Roberto Cenati, president of Anpi Milano, who reaffirmed his solidarity with Senator Liliana Segre, stressing the danger of the re-emergence of fascist and anti-Semitic revivals in Europe and in Italy.
Among the representatives of the authorities, the European MP Pierfrancesco Majorino, the city board member Diana De Marchi and the regional board member Gianmarco Senna also spoke.