'Covid 19 is a humanitarian catastrophe' Jewish nonprofit launches a call for action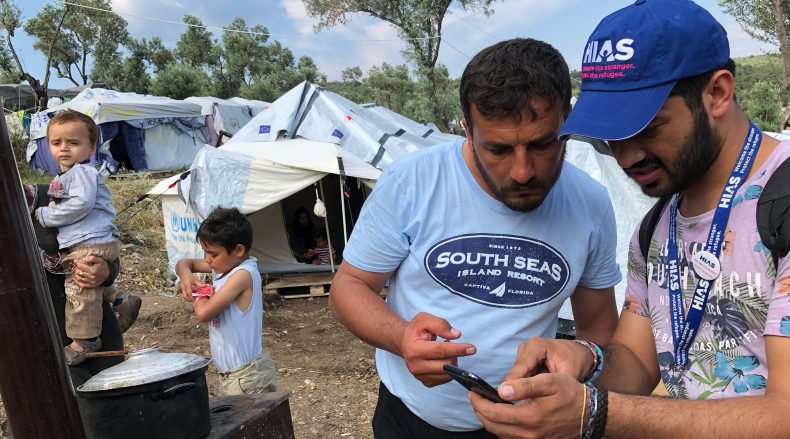 "Donate. Educate. Advocate. The need to help refugees is more urgent than ever". In the wake of Covid-19, a vibrant call for action comes – on World Humanitarian Day – from the Jewish nonprofit HIAS.
From its beginnings in a storefront on the Lower East Side of Manhattan, the Hebrew Immigrant Aid Society has helped more than 4.5 million people of all faiths and ethnicities to escape persecution.
Founded by a group of American Jews in 1881 to assist Jews fleeing pogroms in Russia and Eastern Europe, the organization has provided aid to Jews in distress all across the world. Starting in the 2000s, it expanded its resettlement work to include assistance to non-Jewish refugees and is now dedicated to providing welcome, safety, and freedom to refugees of all faiths and ethnicities from all over the world.
In this essay, the director of HIAS Europe Ilan Cohn, retraces the Jewish roots of the organization and reminds us that the current humanitarian crisis resonates deeply with our history. We have often been refugees and we know the importance of a helping hand.
Igor Chubaryov's grandparents fled from pogroms. His parents left Ukraine with other Jews after the Nazis attacked. When he was 24 years old, he escaped Russian persecution and resettled in New York. Now Chubaryov helps fellow refugees as a New York-based program manager for HIAS.
Sabrina Lustgarten's grandparents escaped Nazi persecution in Poland and found refuge in Latin America. Today, Lustgarten directs HIAS' operations in Ecuador, helping hundreds of thousands of Colombians and Venezuelans fleeing their homelands.
Churbaryov and Lustgarten are motivated by their Jewish identity and family histories to help others. The same is true of many of their colleagues at HIAS, the global Jewish nonprofit that helps refugees, asylum seekers, and other vulnerable people.
Our organization was founded in 1881 to assist Jews fleeing pogroms in Russia and Eastern Europe. We continue to help Jews in distress – my colleagues in Venezuela provide humanitarian aid to Jewish communities at imminent risk of displacement.
Yet today, few Jews are refugees. HIAS's 80 field offices and more than 1,000 staff members from Chad to Columbia to Ukraine focus on aiding non-Jewish refugees.
On August 19, the United Nations celebrates humanitarian aid workers on World Humanitarian Day. This year, Covid-19 calls special attention to their efforts. Amid lockdowns and public-health restrictions, humanitarian workers risk their lives to help those fleeing conflict, violence, human rights violations, and persecution.
In most of Europe, Christian organizations such as Caritas and World Vision have long been on the humanitarian front lines. ECHO, the European humanitarian agency, partners with some 45 Christian and five Muslim non-governmental groups – yet not a single Jewish organization. Our Jewish history and values give us a responsibility to join them.
The need to help refugees is more urgent than ever. At the end of 2019, almost 80 million people around the world were forcibly displaced, the highest number on record. Contrary to popular misconception, the vast majority are not housed in Europe or the West. Developing countries, led by Jordan and Turkey, host 95 percent.
Covid-19 threatens to turn this simmering refugee crisis into a full-fledged humanitarian disaster. Before the pandemic, many refugees struggled to earn enough to support their families. Now jobs have dried up. More than 70 percent of those receiving aid from HIAS can no longer meet their basic need for food, compared to only 15 percent before the outbreak.
In many countries, HIAS assistance is a lifeline. We are partnering with local supermarkets in Ecuador to help asylum seekers buy food with credit. In Israel, we have formed a volunteer network to deliver food. In Kenya's cities, we have found ways to deliver our services online, including one-on-one mental-health counseling.
We are also fighting Covid-19 itself. In Chad's refugee camps, for example, we have built hand-washing stations, handed out masks, and provided information about how the virus spreads.
Amid the pandemic's dark clouds, some heartwarming moments shine through. Many come from refugees who, having found refuge themselves, are giving back. Bhagawat used his business skills to get masks and other protective gear to people in the Washington, D.C. area. Zacha cooks meals for refugees in Peru.
What can you do to help them?
Donate. More than a hundred Jewish and Israeli organizations recently held a 10-day campaign to raise funds and express solidarity for refugees. Funds are needed more than ever, not just because of growing need but also because many philanthropists are cutting back or reprioritizing toward domestic and Covid-19 needs.
Educate. HIAS has developed numerous resources, often connected to Jewish holidays, that will help connect refugee issues to your local communities. Most recently, HIAS Europe translated the HIAS Haggadah into French, and it stands ready to support local initiatives throughout Europe with tailored resources.
Advocate. Governments need to know that we care about refugees. The European Commission is preparing to launch a new Pact on Migration and Asylum, which will include construction of new asylum centers on European borders. Those centers must be used to accelerate legitimate asylum requests, not simply speed up rejections.
Our community's voice in Brussels should go beyond fighting anti-Semitism and supporting Israel. We should advocate, along with other faith communities, for the European Union to find solutions for refugees and their impoverished host countries. While control of external borders is important, it alone will not solve the problem of forced migration.
Like my colleague Igor Chubaryov, Jews must not forget that we too often have been refugees. "HIAS helped in the beginning because the needy were Jewish," says Chubaryov. "And now HIAS continues to serve because that's what Jewish people do — we help".
Ilan Cohn, HIAS EU Director