Reading "Chagigah" in Italian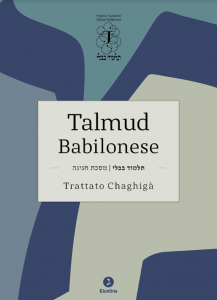 The Jewish new year started with a remarkable cultural accomplishment. The translation of the Talmud into Italian went a step further with the release of the tractate "Chagigah", literally "Festival offering". It is the fifth of the Babylonian Talmud tractates to be translated into Italian so far, after "Rosh haShanà", "Berakhòt", "Ta'anìt", "Qiddushìn".
"Chagigah" is devoted to the Three Pilgrimage Festivals – Passover, Shavuot, and Sukkot – and the pilgrimage offering that men were supposed to bring in Jerusalem. In the middle of the second chapter, the text discusses topics of ritual purity. Published by Giuntina, a Florence-based publisher that specializes in Jewish books, "Chagigah" was edited by the chief rabbi of Rome Riccardo Di Segni, who chairs the first ever Italian translation of the Babylonian Talmud.
The Babylonian Talmud Translation Project – initiated by Clelia Piperno, law professor at University of Teramo and developed under the scientific and operational guide of rabbi Riccardo Di Segni – got under way in 2011 with an agreement between the Presidency of the Council of Ministers, the Ministry of Education, the National Committee for Research (CNR), and the Union of the Italian Jewish Communities (UCEI) – CRI (Italian Rabbinical College).
The translation of the Talmud, which consists of 36 tractates written in Aramaic and ancient Hebrew, is being edited by a team of about 80 researchers, among them expert and trainee translators, proofreaders, content and publishing editors, supported by a team of about 10 computer experts and the administration staff.
The innovative computerized system developed by the CNR's Institute for Computational Linguistics of Pisa is the true key element marking the difference with all existing translations of the Talmud and other ancient texts. This system, called TRADUCO, which in Italian means "I translate" has been designed specifically for this project to enhance the work of translators, and it's being constantly supported by CNR's highly experienced researchers of computational linguistics and computer experts.
The Talmud Translation Project not only enriches the Italian cultural heritage, but is also the key to a crucial work of the Jewish culture that has had a great influence in the European history for the last thousand years. To everyone's surprise, the first volume has entered into more than 10,000 households in Italy: a huge success for a text so difficult. Many of the books probably reached non-Jewish homes, signaling an interest in Jewish tradition even more notable in times of resurging racism.