The Jewish Book Festival to open under the shade of the Sukkah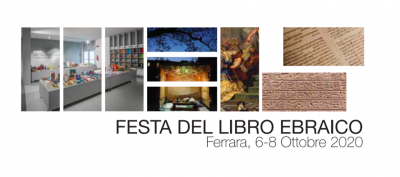 This year, for the first time, a Sukkah will be built in the Garden of MEIS, the National Museum of Italian Judaism and the Shoah in Ferrara. The temporary hut, which commemorates the years that the Jews spent in the desert on their way to the Promised Land, will play an important role in the upcoming Jewish Book Festival. The 11th edition of the three-day festival – which is realized with the contribution of Regione Emilia-Romagna and the support of Giulio Barbieri Outdoor Solutions, Coferasta, and Fercam, will inaugurate on Tuesday at 6:00 pm with a conversation on "The power of sign", focused on writing and identity in Biblical Hebrew and Egyptian hieroglyphics, with the director of the Egyptian Museum in Turin Christian Greco and the director of MEIS Amedeo Spagnoletto.
Wednesday at 4:00 pm, Saverio Campanini, professor of Hebrew Language and Literature at Bologna University will give a presentation of the book Archivio e camera oscura – Carteggio 1932-1940 (Adelphi), which he curated. The volume assembles the correspondence between the philosopher Walter Benjamin and the philosopher and theologist Gershom Scholem. The social historian of ideas David Bidussa and Shaul Bassi, professor at Ca' Foscari University in Venice and Director of the Center for the Humanities and Social Change at Ca' Foscari University in Venice will participate in the discussion.
At 6:00 pm, the director of the Uffizi Galleries Elke Schmidt will introduce the catalog "Beyond the Ghettos. Inside & Outside" (Silvana Editoriale) realized on the occasion of the exhibition that will be inaugured at the MEIS in march 2021. Along with Schmidt, the editors of the volume Andreina Contessa, Simonetta Della Seta, Carlotta Ferrara degli Uberti, and Sharon Reichel will illustrate the project.
Thursday, at 4:00 pm, the president of the MEIS Dario Disegni and the lawyer Marcello Sacerdoti wil present the book by Ermanno Tedeschi titled I racconti di Matilde (Associazione Culturale Acribia), which tells the real story of a small doll that, after the approval of racial laws in Italy, traveled all around the world. At 6:00, the writer and director Alberto Caviglia will give a presentation of his book Olocaustico (Giuntina) along with Micol Temin, event manager at the Jewish Culture Center in Rome and Michelle Nahum Semira, who collaborated of the Italian Ministry of Culture on the didactics of the Holocaust, who now works on promoting Jewish culture.
Events are free, and reservation will be required. The festival will be streamed via Facebook.