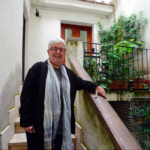 By Anna Foa*
On March 6, Europe celebrates the Day of the Righteous of Humanity. The establishment of this day was the result of a long battle waged by the Gariwo association and its president Gabriele Nissim. In many places, the very idea of ​​the Righteous of Humanity has been contrasted with that advocated by Yad Vashem of the Righteous among the Nations, that is, those Righteous who saved at least one Jew during the Shoah.
On the occasion of the Day of the Righteous of Humanity Mordecai Paldiel, who from 1984 to 2007 was director of the Department of the Righteous of Yad Vashem, wanted to express his opinion on this point. Arguing that the time has come to extend the concept of righteous to every crime against humanity, he thanked the European Union for having approved the law establishing the day of March.
"Yad Vashem – he said – was the first institution that created a Garden for the Righteous. We used these thousands of people we honored as an educational tool. But now the time has come when we have to expand this message and honor people who have saved other people, who have helped them in different ways not necessarily during the Holocaust but in many other cases of tyrannical regimes. People that are persecuted for no guilt be it in Bosnia, Burma, Cambodia, Africa, Paraguay, anywhere. This in order to spread the message that people can make a difference and act in the best tradition of humanitarian behavior".