Rome, a tale of war and suffering in an exhibition aimed at young people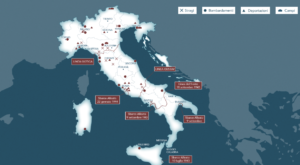 Allies, Germans, fascists, partisans, deportees, Jews, civilian casualties, territory. Eight different, often intertwined perspectives to look at World War II and the devastating impact it had on the lives of millions of people. That is the itinerary traced by "La Guerra in Italia: donne, uomini e territorio" (War in Italy: women, men and territory), a virtual, photographic exhibition realized by the Shoah Museum Foundation in Rome in collaboration with the Federal Republic of Germany's Embassy.
"An exhibit about the Italian events from 1940 to 1945, but with a greater, ample meaning", points out historian and curator of the exhibit Amedeo Osti Guerrazzi. Through innovative graphics and pictures from numerous Italian and foreign archives, "a tale of suffering relevant to any conflict" transpires.
An exhibition aimed primarily to young people, recipient of various and constant stimuli even during a pandemic. "We care a lot about facts, about substance", said president of the Shoah Museum Mario Venezia during a press conference. Substance which, to the Foundation, meant thousands of students remotely connected to quality events. Among the most recent ones, the "Future Roots" project, which gives a group of 13 young girls and boys the opportunity to train to become knowledgeable tour guides and volunteers. "We work by exchanging ideas and experiences. It is a great opportunity for everyone" Venezia said yesterday, in the company of four of them.
To German Ambassador Viktor Elbling, "our two countries have a particular responsibility to convey what came to pass during Nazi-fascism". To the diplomat as well, it is essential to move from words to action. To commit to leaving a mark in order to fill those knowledge gaps which, among young people, "are significant, unfortunately". A challenge within the challenge: "Even without being able to physically visit the places of the Memory, young Italians and Germans have to keep in touch with our shared history", he reflects. A strong reminder to commit "against ignorance, intolerance and anti-Semitism" came also by Israeli Deputy Ambassador Alon Simhayoff. To that end, projects like this multimedial exhibition, leaning on the educational lever, are essential. The best way, he observed, "to make a difference".
Ruth Dureghello, president of the Jewish Community in Rome, is on the same page. She lingered on some events which saw the Community and the German Embassy side by side, starting from the solemn honours conferred to Shoah Witnesses Piero Terracina and Sami Modiano. She also reiterated how the greatest enemy is indifference, a non-value "we are all called to fight".
The exhibition, available online in both Italian and German, is funded by the Italian-German Fund for the Future.
Translated by Silvia Bozzo and revised by Antonella Losavio, students at the Advanced School for Interpreters and Translators of Trieste University, interns at the newspaper office of the Union of the Italian Jewish Communities