In Ljubljana a new synagogue marks a milestone for Slovenian Judaism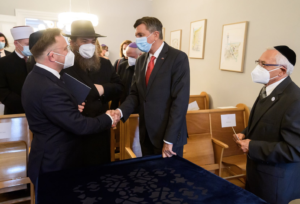 At the time of the Austro-Hungarian Empire, the Jewish community of Ljubljana operated in the orbit of the Austrian city of Graz. This historical relation was revived last week with the inauguration of a synagogue in the capital of Slovenia with a moving and solemn event marked by the participation of the President of the Slovenian Republic Borut Pahor and of numerous representatives of religious institutions and communities.
The contribution and activism of the president of the Jews of Graz Eli Rosen were decisive to this endeavor, making it possible to find the necessary funds to establish the small but warm Beth HaKnesset. Located on the first floor of a central building, the community space is complemented by the presence of a room dedicated to socializing and one with a kitchen function.
"It is a historic day. Now the challenge will be to fill our synagogue with Jewish content and life", explained to Pagine Ebraiche Rabbi Ariel Haddad, Chief Rabbi of Slovenia, who lives in Trieste, which as Ljubljana in the past was part of the Austro-Hungarian Empire.
From Trieste, also the president of the Jewish community Alessandro Salonichio, his deputy Davide Belleli, and the Chief Rabbi Alexandre Meloni joined the event.
"Today – said Rabbi Haddad – marks both a milestone and a crossroad for Slovenian Judaism. On the day we celebrate the opening of a new synagogue, we should ask ourselves what the meaning of a synagogue is. Is it in the walls, in the benches we are sitting on, or in the books? Of course, a synagogue is all of these things and here we have an example of a very nice little synagogue. But beyond this, the answer is: a synagogue is us".