"Our Passover in Odessa, together against darkness"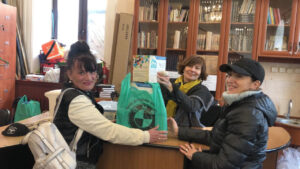 By Daniel Reichel
The sky above Odessa has turned black, these days. The Russian attack on a local refinery has covered the city in smoke and darkened the faces of those who chose to stay. They live with the constant fear that the situation will precipitate. An atmosphere of tension that they try to undo in many ways, for example dealing with these interminable days of conflict together. For the Jews of Odessa, it means celebrating Passover. "Despite this difficult situation, for days we had dozens and dozens of people lined up to receive the packages we prepared for Pesach. It is the demonstration that there is a great desire to feel part of the community, of something bigger", Chaya Wolff explains to Pagine Ebraiche from Odessa. Along with her husband Avraham, Chief Rabbi of the city, she talks about the commitment to offer the community the possibility to celebrate the upcoming holiday. "Hundreds of packs of matzos (unleavened bread) and vouchers to shop for food in a city shop were distributed. We have prepared ready-made Seder dishes for those who want to celebrate at home. From maror (bitter herbs, symbol of the suffering suffered by the Jewish people in Egypt) to haroset (a mixture that represents the mortar used by slaves in Egypt to make bricks), there is everything. We are expecting at least one hundred and twenty people for the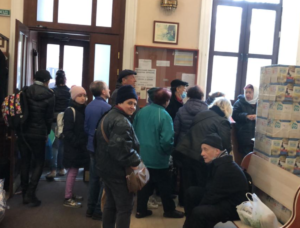 first holyday celebration at the synagogue and one hundred and sixty people in a hotel we have booked to be together".
The ceremony at the synagogue, explains Chaya Wolff, was planned earlier than usual. "We must respect the curfew. In any case, we will be able to do everything in time and offer those who come a little hope and joy".She and her husband, emissaries of the Chabad movement, moved to Odessa in 1992. Together they built an orphanage and worked to reopen various services for the local Jewish community. "These have been years of great rebirth. We never thought we would witness a tragedy like this war. We have in our eyes the Bucha massacres, the Mariupol tragedy. We pray that there will be an agreement and peace. It will take a miracle that is now difficult to believe, but also the Jews enslaved in Egypt initially did not believe in liberation". For this reason, she adds, trust cannot be lost. "We hope to be freed from this war soon, and that everyone can finally return to their families in Ukraine and Odessa. We hope to be free men and women again. May the light triumph over this darkness".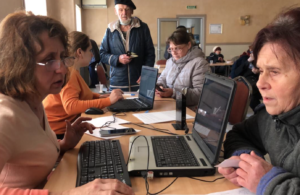 The commitment of the Wolffs, already described by Pagine Ebraiche, in fifty days of war has reached all areas of the emergency. From the distribution of food, which never stopped, to the transfer of people across borders, especially children. "Many refugees met in Berlin and will now do Pesach there". Those who stayed are in the city with their mothers and grandmothers. "We follow them too, as well as the Holocaust survivors. For them it is difficult, given the memories of the past, but we try not to let them lack for anything".
Before Passover, two containers filled with food arrived to Odessa and this gives comfort. "We have everything, even chocolate. And then, thank God, people came to help from France, London, and Israel". Despite the difficult context, thoughts go to father Moshe Greenberg. "My husband these days reminds me of my father's story: he was born here, in Ukraine. He was a refuznik and was deported to Siberia during the Soviet regime. He spent seven years in prison and for Pesach he only had a cube of sugar". It is a story that helps to gather strength today and maintain optimism, she explains. "My father left these lands in 1966 and he never wanted to return. Instead, my mother Dvora, who is also Ukrainian, came to visit us here in Odessa. She was amazed and happy to see my children playing freely on the street, with the kippah on their heads. She was almost incredulous that the synagogue could function regularly, with the school, the orphanage, the canteen. She was happy to see so much freedom ".
Then attention returns to the packages to be distributed, to the last things to organize for Passover celebration and beyond. But first, an appeal to the entire Jewish world. "In this Pesach, even more than in the past, it is important to open the door of the house to a stranger, to someone who is alone. Add a seat at the table for a Ukrainian refugee or anyone. It will be a mitzvah, a gesture that will bring light and help to defeat this obscurity of the present".