Jewish identity, questions and answers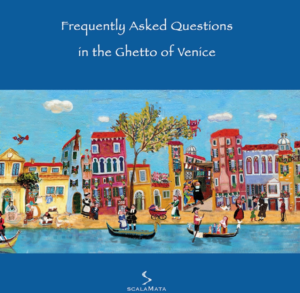 How can Judaism be defined? As an ethnicity? As a religion? As a culture? "Frequently asked questions in the Ghetto of Venice", a small book which has recently been published, aims to answer these questions. Published by the publishing house Scalamata with informational purposes, the book is characterized by its immediacy and clarity, and also by a successful combination of text and images. As a matter of fact, the illustrations of artist Michal Meron are a treat for the eye: a colorful fresco captures the essence of salient moments of the Jewish-Venetian identity and rituality.
"There are many interesting curiosities related to the Ghetto that connotate its history. Just as there are many questions that people ask about Jewish culture, history and religion, and about the causes of anti-Semitism", admits the publisher Alon Baker. And the idea of trying to give some answers to the public comes from here. It is a simple but yet valuable little book. As the president of the Jewish Community Dario Calimani pointed out, it is significant that "this small but great work by Alon Baker and Michal Meron, which aims to debunk false myths and prejudices about Jewish people and to explain some small truths that are too often unknown because taken for granted" sees the light in Venice. And notably in the Ghetto "that for the Jews was at the same time a place of segregation and a place enlightened by life and culture". Stimulating awareness, fighting prejudice. This is an imperative commitment, highlighted Calimani, "in order to restore the right perspective to history and reality, to make respect and understanding among people prevail rather than diffidence and suspect, aversion, malevolence and hate". An imperative commitment to make "the spirit of humanity triumph" among people.
The book dwells also on the "today ghetto": its places, the facilities and services offered. From the Jewish cultural center to the museum, passing through a kosher guest house, a newly-opened restaurant and a bakery shop. And then, of course, the most relevant synagogal complex in the World from the Renaissance period, made up by five synagogues, two of which are permanently operating. This is one of the gems of the Jewish Venice, a heritage of the whole city.
Translated by Laura Cattani, revised by Margherita Francese, students at the Secondary School of Modern Languages for Interpreters and Translators of the University of Trieste, interns at the newspaper office of the Union of the Italian Jewish Communities – Pagine Ebraiche.