MEDIA From the Golem to Harry Potter. Magic in the Jewish Perspective
By Rachel Silvera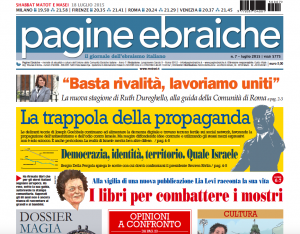 The July issue of Pagine Ebraiche was published at the end of last week. The monthly Special section is devoted to magic in the Jewish perspective, from the Golem to Harry Potter.
Inside the section, professor Gideon Bohak explains the exhibition, "Magie. Anges et démons dans la tradition Juive", now open at the Musée d'art et d'histoire du Judaism in Paris. Director and actress Miriam Camerini writes about the story of the Golem and the Dybbuk as it has been depicted in theaters through the years. The chief rabbi of Rome, Riccardo Di Segni, who has written a book of Jewish anthropology called "The Nails of Adam", explains the difference between magic and ritual. Rabbi Levi Cooper, a teacher at the Pardes Institute of Jewish Studies in Jerusalem, offers his take on the relationship between Harry Potter and the Jewish tradition.
For the first time in history, the Jewish community in Rome has elected a woman as president. In a conversation with Pagine Ebraiche, Ruth Dureghello, talks about her projects.
"It is time to work for the whole community. It is time for us to stick together," she stressed.
What are the concerns of the President of Israel Reuven Rivlin on demography and its effects on the country's society? The question is addressed by Sergio Della Pergola, prominent demographer of the Hebrew University of Jerusalem.
In this issue, the monthly interview is devoted to the writer and journalist Lia Levi. Levi, who wrote the bestseller "Una bambina e basta" ("Just a little girl"), a book about her childhood during Fascism, talks about her new novel "The bracelet".
The July issue of Pagine Ebraiche also focuses on some new movies: "A Tale of Love and Darkness", whose screenplay is based on the novel by Israeli writer Amos Oz and which is the first work of Nathalie Portman as director, and the film by Steven Spielberg focusing on Edgardo Mortara, the 6-year-old Jewish boy kidnapped in 1858 by Papal guards and raised by the Church.
Finally, a conversation with French writer Eliette Abecassis. The article focuses on her latest book, "Alyah", a book in which she reflects on the current drive of French Jews to move to Israel.