BOOKS In the Fight Against Terror No Room for Giving Up to Fear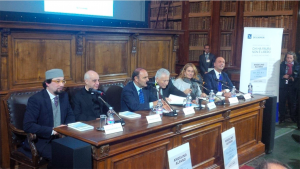 By Adam Smulevich
The new book by Italian Minister of Interior Angelino Alfano Chi ha paura non è libero (Those Who are Afraid are not Free) published by Mondadori was presented in Rome last week. Among the speakers invited by the Minister to present the book was the president of the Union of Italian Jewish Communities, Renzo Gattegna.
"In the fight against terror we have to reject any form of self-pity and self-deprecation. It is essential to remain united in defense of our values. This is our strongest weapon," Gattegna said during the event. The introduction was made by popular television journalist Bruno Vespa and the event was attended by Monica Maggioni, the president of Rai (Italy's national public broadcasting company), archbishop Rino Fisichella and Imam Yahya Pallavicini.
"We must be aware of the fact that 'no risk' does not exist anymore. Therefore in times of emergency it is important to be even more careful. At the same time it is essential to go on with our lives and with our habits, fearless," the president added.
A few weeks earlier Gattegna discussed security issues with Minister Alfano, who received him together with European Jewish Congress delegate Alessandro Ruben. The meeting also included the two presidents of the Jewish Community of Milan, Raffaele Besso and Milo Hasbani, and the president of the Jewish Community of Rome Ruth Dureghello.
"The main challenge is to overcome fear, to give security to citizens without changing our habits and undermining our freedoms. We have studied the enemy and we know him well. We know how insidious he is; but our democratic values and our principles are stronger. We will win," Alfano assured during the presentation of his book.