FOOD New App Lists Kosher Products Available in Italy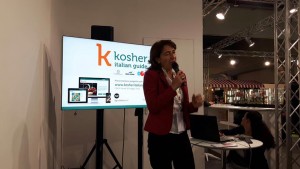 By Francesca Matalon
To speak about kasherut is also to speak about quality, according to Jacqueline Fellus, responsible for K.it, the Italian national kosher certification initials released by the Union of Italian Jewish Communities (UCEI), of whose board Fellus is a member. K.it was a protagonist at Cibus, the prominent food and agriculture fair held in Parma last week.
The exhibition featured a special new section devoted to kosher food, promoted by the Ministry of Economic Development. From this cooperation, and together with the association "Federalimentare", a new app was created, called Kosher Italian Guide, which provides a list of all kosher products already available and alerts users about new ones when they come on the market.
Fellus presented the app at Cibus, together with Marcella Pedroni, general secretary of Fiere di Parma, Elena Toselli, from the Ministry of Economic Development and Sergio Auricchio from the firm Agra Editrice which is in charge of the design.
"Kosher Italian Guide, Fellus said, will be a lighthouse, illuminating our values and sharing them with a wider audience." These values are already shared by the Ministry, Toselli underlined. The project, she explained, was conceived about five years ago, as part of a policy on promotion of food certifications among Italian companies as a strategy for enhancing and internationalizing the Made in Italy brand.
"Already hundreds of companies have been mapped but the database is expanding," said Pedroni. She also noted that the application is available in English, so it can become a useful tool not only for Italians but also for those coming to Italy from abroad. Keeping the database up to date, added Auricchio illustrating the functionality of the app, is therefore a priority to "ensure that all certificates are up to date and that the list is always complete."
The service will be useful not only for Jews but also for Muslims, with whom Fellus spoke of "synergy", as underscored by the fact that Cibus devotes a special section, next to the kosher one, to Halal food, namely products that follow Islamic rules. In addition, she stressed, "K.it certification is a guarantee of control over the entire chain of production, reliable even for those with food allergies, and anyone who wants to be sure to buy strictly Made in Italy. "
A kosher certification, finally explained Fellus, is not only an advantage for consumers, but also for producers: "Unlike many other sectors, she said, the kosher market is booming as more and more certified products are selected because they are considered of higher quality." This is the reason why she explained it is so important for K.it to be at Cibus. "We need to make it clear to producers that the kosher certification opens new horizons as a way to reach those markets in which controls are a further bonus."