FEATURES Arts and Resilience at the Venice Biennale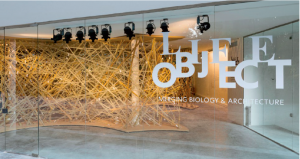 By Francesca Matalon
 
Resilience is the central theme of this year's exhibition at the Israel Pavilion at the Biennale in Venice, called "LifeObject: Merging Architecture and Biology." The exhibition explores the relation between architecture and biology. The Biennale is a contemporary visual art exhibition, so called as it is held biannually, in odd-numbered years.  The Israeli Pavilion was founded in 1952, just four years after the declaration of Independence. This year the inauguration ceremony was attended by among others, the Israeli Ambassador to Italy, Naor Gilon, the Chief Rabbi of Venice, Scialom Bahbout, and the Israeli scientist, Dan Stechtman, who won the Nobel Prize in Chemistry in 2011.
 
From a scientific point of view, resilience is an essential element in biological systems, which refers to their capacity to face a shock or a trauma. This influences biometrics, the distinctive, measurable characteristics used to label and describe individuals which are studied in order to learn how they function and to induce a desired behavior in a specific technology system. Biometrics are also important for bio-mimetics, which is the imitation of the models, systems, and elements of nature for the purpose of solving complex human problems.
 
The main characteristic of the exhibit's group of curators – coordinated by Yael Eylat a researcher specializing in the fusion between art, science and technology is the interconnection between many various fields of knowledge. Its members are Bnaja Bauer, an urbanist combining interdisciplinary knowledge from biology, electronic image processing and pure architecture; Arielle Blonder, an architect who favors the use of composite material for his works; Noy Lazarovich, also an architect who focuses his multidisciplinary research on smart materials and their potential application to sustainable architecture; and scientist Ido Bachelet, who is a doctor, an inventor and a musician specializing in bionics, synthetic biology and human growth.