NEWS New Projects at Milan Holocaust Memorial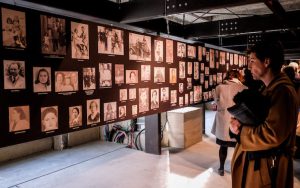 By Daniel Reichel
A growing number of people are becoming interested in the activities of the Milan Holocaust Memorial. "For the first time, the Holocaust Memorial has hosted four activities in a single day with more than 800 visitors taking part in them," said the vice president of the Memorial Foundation Roberto Jarach, speaking about the wide participation in the programs held last week.
The structure is located in the warehouses of the Milan Central Station, where the trains to the death camps were loaded in secret by the Nazi-Fascists.
"In addition to the guided and free visits that take place from 10 am to 7 pm, the exhibition "16 Ottobre – La Razzia" (devoted to the Nazi raid of the Jewish ghetto in Rome) has aroused great interest for this rich and valuable documentation," emphasizes Jarach. The exhibition will be open till 13th of April.
The basement of the Memorial features another exhibition, "Walikow", a project done by students of Architecture in Warsaw and Milan under the guidance of the creators of the Memorial, architects Guido Morpurgo and Annalisa de Curtis. The project aims at the preservation and enhancement of the last existing buildings in the Warsaw ghetto, in the framework of the institutional cooperation between the Technical University and the Holocaust Memorial Foundation.
Another activity was the eighth edition of the "Primo Levi Lesson" with a keynote address by Martina Mengoni on "Primo Levi and the Germans." "More than 120 people attended the event", underlined Jarach. The initiative, organized by the Association Children of the Holocaust, in collaboration with the Primo Levi International Centre, takes place in different cities (Turin, Rome, Milan). Over the course of the years, it has become an annual event of great interest for the public and for all the organizations concerned.