NEWS Milan's Holocaust Memorial to Be Completed in Eight Months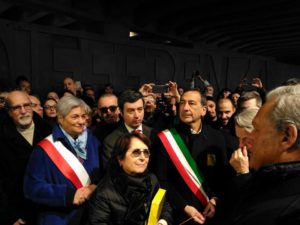 By Pagine Ebraiche staff
 
Milan's Holocaust Memorial is going to be completed in the next seven or eight months. Announcing this was the vice-president of the Foundation for the Memorial, Roberto Jarach.  Mr. Jarach expressed his gratitude for the decision of the Italian Ministry for Cultural Heritage to allocate the funds necessary to finish building the library.
 
"These funds represent the direct effort of the Italian authorities in the restoration of a place of Remembrance, where the horrors of the Shoah began in Milan", commented  Minister Dario Franceschini.
 
The funds allocated amount to 3 M euros. The library of the Memorial will accommodate the 45,000 books owned by the Center for Jewish Contemporary Documentation (CDEC) in Milan.
 
"We welcome the Minister's decision. The Memorial is a symbol of positive values and for the fight against indifference", said the President of the Union of Italian Jewish Communities Noemi Di Segni.