SPORTS Gino Bartali to Receive the Honorary Posthumous Citizenship of Israel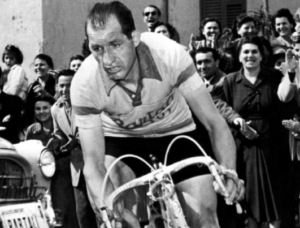 By Pagine Ebraiche staff
Gino Bartali will be given honorary posthumous Israeli citizenship during a ceremony at Yad Vashem on Wednesday May 2, 2018. The legendary Florentine cyclist won the Giro d'Italia three times and the Tour de France twice and was recognized as a "Righteous among the Nations" in 2013 for his efforts in saving Jews during the Second World War.
Organized together with the Israel Cycling Academy, the event will take place two days before the Giro d'Italia 101st edition which will begin in Jerusalem (also the Academy will participate).
There will be a special evening following the ceremony, in which there will be a performance devoted to Gino Bartali. The event will take place at the Science Museum in Jerusalem.
The actor Ubaldo Pantani will interpret the champion in the play "Bartali. The champion and the hero"(Modigliani productions) written by Pantani himself together with Max Castellani, Alessandro Salutini and Adam Smulevich. The play is directed by Pablo Solari.
The following day a cycle path will be inaugurated by Keren Keyemeth Le Israel. Another way to honor Gino Bartali.