CULTURE Jewish Manga: an Exhibit in Venice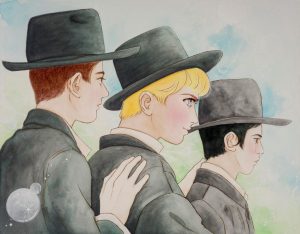 By Pagine Ebraiche staff
An exhibition featuring depictions of Jewish traditions and culture in the style of manga will be inaugurated at the Venice Jewish Museum on March 20, 2019.
The artwork will include 25 panels in pen-&-ink and watercolour by illustrator Thomas Lay. Lay studied at the National Drama Academy in Paris. He later began his career in Japan at age 25 drawing at the studio of Yumiko Igarashi, creator of famous manga series such as Candy Candy and Georgie".
"As a Jew, I find it is important to me as well as innovative to represent our ancient culture through a popular contemporary graphic language such as that of the Manga, instantly recognizable," the artist explained presenting his work that blends Jewish and Japanese traditions.
The exhibition is being promoted by the Jewish Community of Venice together with Coop-Culture, with the support of the General Consulate of Japan in Milan and of the European Association for the Preservation and Promotion of Jewish Culture and Heritage. It will close on April 28, 2019.