NEWS Dozens of Locations celebrate the European Day of Jewish Culture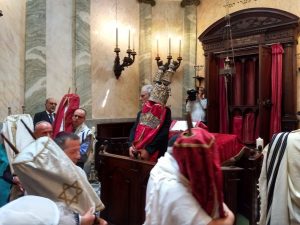 By Pagine Ebraiche staff
The European Day of Jewish Culture was celebrated on Sunday all over the Italian peninsula.
Over 80 cities and towns joined in the event. The 2019 edition was focused on the topic of "dreams" in the Jewish tradition. Parma was this year's capital of the day.
"Twenty years have passed since September 1999, and this event, coordinated and promoted in our country by the Union of Italian Jewish Communities, has grown exponentially, year after year, becoming a consolidated appointment in the Italian cultural scene," said Union of Italian Jewish Communities vice-president Giorgio Mortara.
"The purpose of the Day, which is celebrated in over thirty European countries, is to promote the knowledge of history, places and traditions of a minority that has been in Italy for over two millennia: a long history of coexistence, between dark periods and times of extraordinary cultural vivacity. The Jewish community is almost superfluous to point out, now lives perfectly integrated and substantially 'in symbiosis' with the general society, to which it gives its own contribution in terms of values, contents, ideas, culture," he added.
In Parma, the event was kicked off in the prestigious halls of the Biblioteca Palatina which houses one of the most important collections of Jewish manuscripts and volumes in the world.
The program in the city included a performance entitled, "Dreams, a ladder to the sky."
The President of the Italian Republic Sergio Mattarella also expressed his support for the day.
"Jewish culture, with its specificity and unique characteristics, is an integral part of Italian history, conscience and life. It is a heritage of great value, which deserves to be preserved, widespread and deepened," the president said in a statement.