How to light the Hanukkah candles together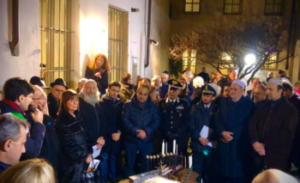 For more than twenty years, the Sunday of Hanukkah, which this year falls on December 13th, has been the opportunity for the Jewish Community of Casale Monferrato to meet hundreds of friends in a light themed day. The date has been confirmed also this year and although it will happen online it is expected to be more crowded than usual, thanks to the international public.
During the event, the president of the Jewish Community Elio Carmi and the Young curator of the prestigious collection of the Museum of Lights Daria Carmi will introduce seven new artists whose work this year becomes part of the collection. Then the kids of Maccabi Monferrato will present a short video dedicated to the Maccabi World Union.
On December 10th, an online event organized by the Museum of Italian Judaism and the Shoah-MEIS will explore the themes of Hanukkah with Elio Carmi and the Chief Rabbi of Padova Aharon Locci. It will be an opportunity to explore virtually the superb collection of the Museum of Lights in Casale Monferrato, that now counts 250 lamps (Hanukkiot) realized by important Italians and international artists specifically for the Art, History, and Jewish Culture Foundation in Casale Monferrato and Eastern Piedmont, that every year at Hanukkah presents its new acquisitions.
The exhibition, which periodically rotates the artworks in display, is located underground in the synagogue courtyard, in the former oven for the matzot (the unleavened bread for Passover).
On the last day of Hanukkah, December 18th, the Jewish Community of Casale Monferrato will participate to a video realized by the AEPJ, the European Association for the Preservation and Promotion of Jewish Culture and Heritage, which ideally connects the most important locations of the Jewish diaspora in the Mediterranean area. Each of them will light a Hanukkah candle. Along with the Jewish Community of Casale Monferrato, the ones of Salonika, Smirne, Paris, Cote d'Azur, Gerona-Barcelona and Padua (where some of Casale Hanukka lamps are now in public display) will be present. The Museum of Jewish People in Tel Aviv will light the last candle.
Events can be accessed from the website of Casale Monferrato Jewish Community and from its Facebook page.