NEWS A New Curator for the Nahon Museum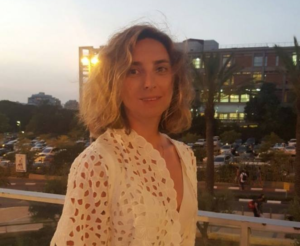 By Daniel Reichel
The Nahon Museum of Italian Jewish Art of Jerusalem has found its new curator: Anastazja Buttitta.
"We discovered her thanks to an article published in Haaretz. After checking her profile we understood that she was the right choice", explained the president of the Nahon Museum, Jack Arbib.
"A dream comes true", commented Anastazja who was born in Warsaw in 1981 and is the daughter of the Sicilian journalist and writer Pietro Buttitta.
"When I arrived at Ben Gurion University to work on my doctorate with Professor Nirit Ben-Aryeh Debby (Jewelry from the Renaissance period in Venice), I thought it would be nice to work at the Nahon, a museum I learned to know well thanks to my studies with Professor Dora Liscia Bemporad," she added.
The new curator began her studies with one year focusing on journalism in Warsaw, where she moved with her mother after her father's death in 1994. Then she chose to devote herself to art and decided to study in Italy. Buttitta graduated in History of Arts at the University of Florence, where she specialized in the History of Applied Arts and Goldsmithing with Professor Bemporad.
In Sicily, a land at the center of the verses of his grandfather, the poet and partisan Ignazio Buttitta, Anastazja worked at the Orestiadi Foundation, cataloguing the great collections of jewelry and painted wood from all over the Mediterranean.
"Afterwards I worked in Rome at the Polish Institute where I dealt with visual arts and collaborated with the Polish Pavilion during the Biennale which featured the Israeli artist Yael Bartana".
Finally, she arrived in Israel. "My father had lived in Israel in the '60s and I had been thinking of moving there for some time. I have always had a passion for the country and for Israeli literature. My assignment at Nahon started a few days ago and of course there are a lot of things to do. It's a fascinating challenge", Buttitta concludes.